Chris Brown/Rihanna Saga Continues...
Hey folks,
So I'm a give a quick synopsis of the past week for this situation...
Diddy
lends out to the young couple and lets them stay at his Miami pad. Upset and trying to make up for the incident, Chris goes to a jeweler's and cops a
$50,000 ring
for Rihanna. This is supposedly the "
engagement ring
" that everyone is talking about... Proposal has not been confirmed.
Oprah
is speaking out on the situation also steps in and is dedicating her show to domestic violence tomorrow in lieu of the situation.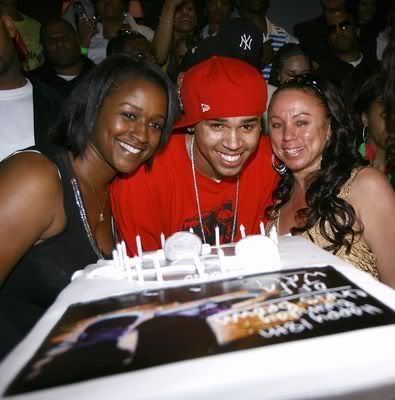 On top of Chris having to go to court last week (next court date
April 6th
), it seems that the alleged "text messages" had come from... his manager,
Tina Davis
(seen on left)... They have supposedly been having a relationship since he was 16 years old!... It gets worse.... She's about...
40
. In my eyes...
36 + 16
= statutory rape and jail time
if true. What do ya'll think?
More as this develops...
~1~
AB

cb09