Bow Wow stands up for his man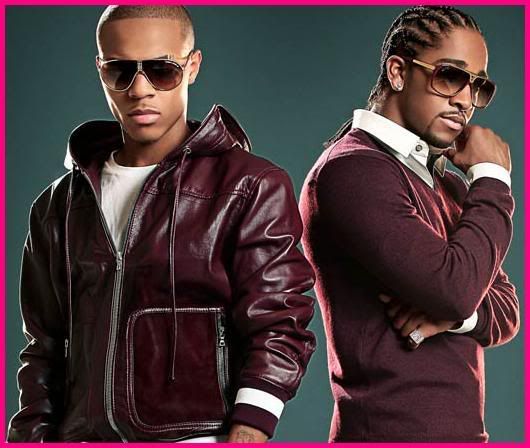 I'm sorry, I didn't mean for it sound like they're a couple (there's enough of that noise going around elsehwere) but in a recent interview with some VJ at BET, Bow Wow flipped out after he felt like the interviewer was trying to play Bow Wow for a clown. Highlights of the video is this ballsy unknown VJ askin' Bow Wow if he thinks Omarion STEALS dance moves from Chris Brown, lol, and how Lil Wayne got a bigger chain than Bow Wow. Peep the video.
Funny right. I'm mad though that Bow Wow starts doin' all that barkin' after he leaves the room and is behind like 4 people, but u know I suspected he was like that. There is a rumor that this whole thing was staged for an upcoming reality show the two are planning to have. We'll just have to see. On a lighter note, SURPISNGLY Bow Wow and Omarion might come out on top of the billboard charts tomorrow, we'll let you know.
Currency leaves Young Money Entertainment
The best rapper, maybe the only rapper on Young Money Ent is leaving. Currency of "Where The Cash At" fame cites lack of movement on his album for his reason for leaving. He says its been four years and ain't nothing happened. He just got tired of being told your album's coming, and nothing come up. Can't blame the dude there. He also said they ain't no hard feelings or bef with Wayne he just had to make some moves and go a different routh. He did say that he hasn't talked to his boss, Weezy in like 4 months. Not cool. So as Wayne stock continues to rise Currency jumps ship. Go get yours man, do you.
Audio:

Fat Joe ft. J. Holiday - I Won't Tell
Video:

Fat Joe ft. J. Holiday - I Won't Tell
New exclusive Fat Joe video. It's hot man, but I dunno if the song gonna make him push any units. Oh and Fat Joe did say that this video is like his own, Biggie Smalls - One More Chance video...Man, I dunno but he do got quite a lot of cameos.
New DTP Signing
Ludacris has got a new one and this artist is sure to stand out on this mostly Hip Hop record label. His name is Steff Jones and his style is quite different and eclectic. Definately a move away from waht DTP has been doing but it just might work. Here go his track "La La", yall be the decider.

And on a random note,
Britney Spears' younger sister, Jamie Lynn Spears of Nickelodeon fame has just annouced that she is pregnant. What's wild about this is that the chick is only 16! AND on top of that her boyfriend/baby daddy is 19! AND on top of that her very own Mom is the one who sold the story to OK magazine. Man, that family just can't get right.

Aiight, That is all, holla at us.
~Dilly