Ayo,
Here's whats bubbling in the lovely world of Hip Hop.
Clipse
- MULTI-MILLION deal with Columbia
One of the realest rap duos just signed a new deal with Rick Rubin's Sony Music/Columbia. With their new contract Clipse bring their

Re-Up Gang

outfit to Sony Music and will enjoy

50/50 profit sharing

with Columbia and will

retain ownership of their masters

at deal's end. This deal is mad nice especially when you look at Clipse's last album

(Hell Hath No Fury)

flopped, even though it was one of the hottest CD that came out last year. This deal also give the Clipse a change to consistently put out music on time, no more 4 year waits. Look out for Re-Up Gang's album in early '08 followed w/ Clipse's third album.
Jadakiss - moments away from signing with THE ROC!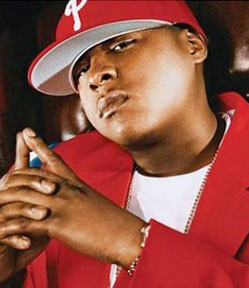 Rumor has it, that this next bit right here ain't rumor. Jadakiss is this .. close to being the newest additon to Roc-A-Fella. Apparently Jay-Z has been trying to sign Jada for a minute and been in talks w/ Dee and Waah of Ruff Ryders way back when to collab w/ the D-Block artist, now that they in jail (Dee and Waah) and Jada ain't got no kinda buzz Jay-Z tryna grab him to beef up their squad. And if you ask me, it's much needed, and like Dame Dash said, you can't live off Kanye forever.

Nas - Backing from Def Jam for new album, "N****r"


After Def Jam Chairman L.A. Reid intially brushed off reports off Nas's next studio album being called N** *A, he has now been quoted as saying that "Nas is a great artist, and we support everything that he wants to do as an artist," so now Nas's new album which is now titled "N****r" will get the full-backing by Def Jam. WTF? As hard as Nas goes, this is not what we need in Hip Hop right now. We got elections comin' up in '08 w/ Obama havin' a change, Oprah and O'Reilly just waitin' to knock down Hip Hop, and I can just see half of America, the half that doesn't understand or like Hip-Hop taking the joint out of context. But hey, we'll see.

Lupe Fiasco, the Hip Hop "nerd" is coming to my school this week. HA! He will be gracing the halls of the University of North Texas in Denton and let me tell ya I am real surprised. UNT really ain't the type of school to have stuff like this so I'm wondering how they pulled it off. Apparently he comin' out to promote his new album, The Cool, and won't be performing, lame, but I'm thinking is that really how to promote for an album? A university tour w/out performng? Either way I ain't complaining, I'm finna get my copy of Food & Liqour signed and make him spit Dumb It Down w/ me. HA.
Aight, yall I'm out be back w/ more in a little bit. - Dilly