Hey folks,
Welcome to Music Forecast's new Evening News.... Our Top Stories...
Juvenile's Daughter Killed, Funeral Service Planning
17-year-old, Anthony Terrell, Jr. was arrested for shooting Jelani, Juvenile's daughter as well as her mother, Joy and Micaiah Deleston. Their bodies were found Feb 28th and Anthony confessed soon after.
A preliminary hearing for Terrell is set for next week in Gwinnett County Superior Court, prosecutor Danny Porter said. Because of Terrell's age, prosecutors cannot seek the death penalty. Terrell faces a maximum of life in prison for each of the three charges.
The funeral for Joy Deleston and her two daughters is set to take place this week in South Carolina. Our hearts go out to Juvenile and his family.
Diddy's Gets Shine for "A Raisin In The Sun
Yea.... I didn't believe it either, but from what I've heard from the reviews, Diddy didn't do that bad. From forgetting his lines the first night on Broadway, Diddy has shown much improvement.
Don't believe me, check the reviews...
USA Today: "...the movie would not have been made without Combs and would not work as well without him."

Chicago Sun Times: "Combs' baby face is a fine counterpoint to his character's rage and bitterness...the actor's blend of volatility, sweetness, pride, impotence and frustration registers beautifully."
New York Post: "Combs does a great, great job--especially for someone who isn't known as an actor."
Wall Street Journal
: "Mr. Combs, who portrays that husband, delivers a sterling performance."
Congrats to Diddy. Now let's see him go platinum with Day 26 & the new Danity Kane album...
Andre 3000 in "The Shield" Series Finale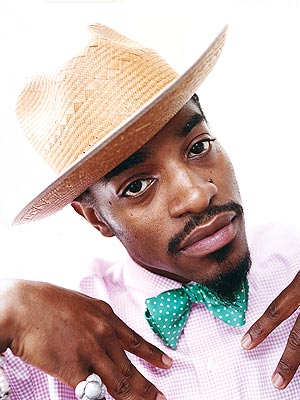 Keep your eyes peeled for Andre 3000 in The Shield season finale. The seventh and final season of The Shield will begin this summer. In the finale Andre will be playing a guy running for mayor. Sounds interesting. I'm a have to check that out.
J. Lo's Twins Finally Born
So J. Lo's finally had her twins, Max and Emme. She gave birth to them early Friday about 2 weeks ago (Yea, I'm late.) in Long Island. They kept the hospital location on hush, though. Don't know why... that hospital would get promo all day... The 5-pound, 7-ounce girl arrived first, followed by her 6-pound brother, Max minutes later.
That's all for tonight, but stay tuned for more "Evening News" next week.
~1~

AB