Dilly here for another edition of HUMP DAY EXCLUSIVES. Yes, we are almost to the weekend, but right now we're already here to the Hot Ish.


Dipset Is OVER!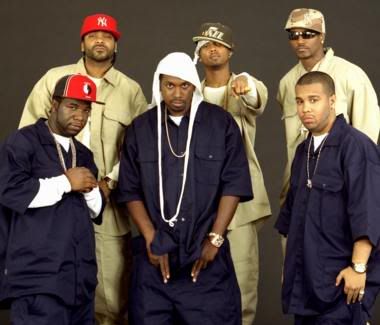 And we all saw it coming. 40 Cal and Jay Bezel done released a track titled "Dipset Is Ova" stating just that, and venting on the frustration with Jim Jones and Camron's beefing. In a recent interview they both said that their failure to not speak or come to terms with eachother has resulted in the whole Dipset failure. They said nobody's making money but Cam and Jones, and it ain't right. The true star of the group in my opinion, Juelz Santana also weighed in and put it like this. "When I came in the game, at 18, and was being treated in a certain way, it was cool, I had no money, I was new, and Cam was the one that got me out. Now, after some success, after some weight being gained, and I'm still being treated the same way? That just don't work." I understand what the man saying, they need to give Juelz his shine, and quit tripping. Either way, Juelz the only one signed to a major labor, as his new album is post to drop with Def Jam this year and his ex-comrade Jim Jones has rumors flying about him being dropped from Warner Bros without even releasing any material. Ouch. Hopefully all ends up well with the members, who knows, but I do know this, at the end of the track there's a SKULL GANG shoutout, so it look Julez's Skull Gang just got some new members.
R. Kelly Disses Ne-Yo On New Track
Now yall knew R. Kelly was hood right? No? Well I'm tellin' u he is. The boy don't play, just with little girls. No, I'm playin' but he really Kels talk greasy like the next man at that's exactly what he doin' on this track "I'm A Beast." Some highlights of Kel's "rap":

Never been a snitch boy/ Never been a b*tch boy/ Why I gotta hate on you?/ Look at me I'm rich boy/ You need a steering wheel, the way you ridin my dick boy/ Say you're a go-getter/ Go get your own sh*t boy...
"
Now although he don't say who exactly he talkin' bout, it ain't hard to tell. Peep it here.
Video: The Games Heads To Prison
Mr. Lame, I mean Game turned himself into prison yesterday to begin serving his 60 day sentence for his weapons possession charge. Not gonna speak on this too much as yall know I think The Game is trying to publicize jail life and use this, for some odd reason, as promo for his new album. Dude didn't even want to fight the charge, don't make no sense. Peep the video here.
And I'm Out. Comment, Come Back.
~Dilly