Update:
Sorry for those who couldn't read this post properly a few hours ago... I think it's fixed now.
Ayo, I won't have time to post tomorrow, so I gotta give yall some sumtin' to hold yall together 'til my man AB post.
Well if you ain't heard by now,
Da Brat - Arrested for Assaul
t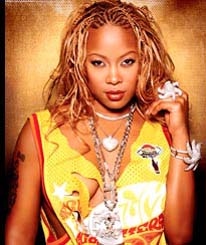 Da Brat arrested for hittin' a woman with a bottle.So apparently Da Brat was kickin' it at JD's club Studio 72, when an altercation occured between Brat and a waitress. Instead of handling sensibly Da Brat took a rum bottle and smashed it on the girl's face. Brat was quickly arrested and probably will be charged with felony assault. And this is not the first time Brat has had trouble like this so yeah definately not a good look. Oh, and it turns out that the waitress at the bar is also an Atlanta Falcon's cheerleader. HA, not anymore.
Jacob The Jeweler - Pleads Guilty, Faces 4 Years Behind Bars
The man that EVERYBODY went to go see to go get their diamonds is likely to be heading to jail after pleading guilty for lesser charges in his ongoing money laundering case. Jacob was arrested and charged in May for violating federal drug laws and laundering more than $270 million. Jacob is accused of accepting "dirty" money generated by the Black Mafia Family (BMF) and giving them jewelry in return without reporting the transactions. The BMF are an infamous gang that used to run Atlanta's drug ring a few years back and supposedly have ties to Young Jeezy and other rappers.
Cam'ron - Comes Out of Hiding
Cam'ron sightings have apparently been becoming more and more frequent, and the word is he finna be back to work with a new album and some stuff with the whole dipset fam very soon. He has even got a song getting passed around. Kinda hot, what yall think?
Aight, that's all for now, I'm try and be more consistent but man we've been mad busy. I'll holla.
~Dilly